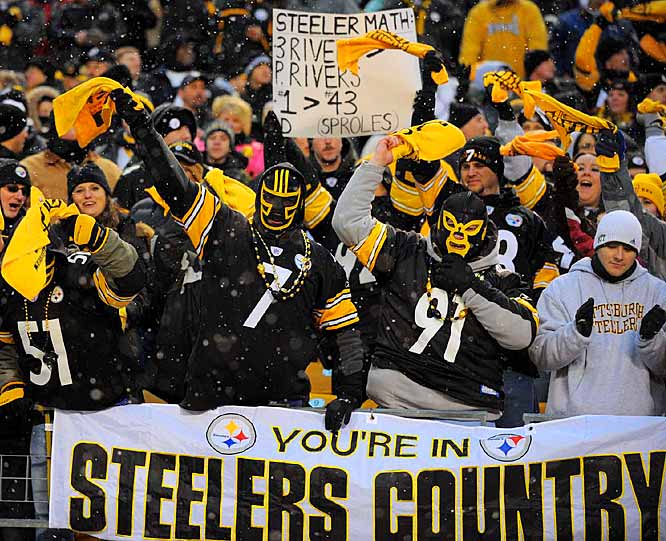 For what seems like the umpteenth year in a row, the Raiders are leaving me (like many other fans) without a horse in the race and no idea where to place my fleeting fandom on Sunday. Since this has become somewhat of a tradition around here, I'll take a couple factors into account and let you know who I'm rooting for. If I do my job right, I will give you enough insight to do the same. We'll use the usual categories: players, cheerleaders, fans, and other nonessential attributes for these champions of the gridiron.
Players: Let's not put this off any longer than we have too. The Steelers have one of, if not the most, easily hatable players in the league in Hines Ward. Ha, just kidding, I was talking about accused rapist Ben Roethlisberger. While it was just an accusation, insuring we will never be 100% confident of which side to trust, he is guilty of terrible decision-making and outright creepiness. Also of note, he has a gray penis. This match-up goes to the Packers in a landslide, despite the awesomeness of this guy's beard.
Cheerleaders: Push, neither team has them, making this the first cheerleaderless Super Bowl. Couple that together with the notion that Fergie will be in full-HD and the fans hailing from the midwest, and it makes for a Super Bowl devoid of any eye candy.
Fans: In less than 5 minutes of the AFC Championship ending, I saw the following update from an unnamed acquaintance on Facebook: "Stairway to SEVEN!" They also swaddled a room full of babies into a brainwashed existence of adult onset diabetes and annoying fandom. If that's not enough reason to root against the Steelers, you're either a Steelers fan or a closeted one. Packers take another category.
Fan Videos: Speaking of "Stairway to SEVEN," it's not the most absurd Steeler related play on words from once great songs. There is also this, entitled "Knockin' On Seven's Door":
The Steelers have adopted Pittsburgh resident Wiz Khalifa's "Black and Yellow" as their song (you can see the Steelers mumbling along to it here). But it has nothing to do with the six time champs, well, apart from their color scheme. So, it doesn't count. That brings us to the Packers most notable fan song. This one was tough to pick, considering there are so many awesomely bad videos by pasty Wisconsians. So, I just picked the most famous of the fan songs. Insert Lil' Wayne's "Green and Yellow," which would be clever if Snoop and Game didn't already make "Purp and Yellow" for the Lakers or Chet Haze (the lesser known son of Tom Hanks, whose name is Chet) didn't already make "White and Purple" for Northwestern. And despite being late to this overwrought round of remixes and my inability to ignore the fact he was rooting for the Saints last year, his song still manages to clinch my impermanent devotion for Sunday. Oh and here is the video:
So, that does it, this Sunday I will be a momentary Packer fan. Honestly, I planned for this to be a closer match-up. But I can't control which franchise is more likable. Though, it would be unfair of me to omit the reality that I went through four months of brainwashing while living in Cleveland. What? I never promised previously unknown bias built deep into the cerebellum wouldn't come into account.
Anyways, I do regret this becoming a beatdown, as it kept me from getting into the fan accessories debate of cheesehead versus terrible towel. Since I couldn't delve into this well deserving debate, I suggest reading Clay Travis' stirring
anti-Towel
commentary. Also of note from the "On Rocky Top" author, if you needed another reason to root for the Packers, check out his post made up entirely of
Steeler's hate mail
. If you're not already, that post alone will make you hit the streets to push for more public school funding. Go Pack, Go!