AL East
Baltimore Orioles
: If they were in any other division, they'd be heralded as a divisional contender, which is something you could say for every team (almost every year) in the East, but that hasn't been true of the O's recently. The reason it's different this season: Buck Showalter and the three low risk/high reward additions of Derrek Lee, Mark Reynolds, and Vladimir Guerrero. I call it low risk/high reward because if they don't help the O's win more it won't come as a surprise as that has sadly become commonplace in Bawlmer. But if Reynolds and Vlad mash the way they are capable of and Derrek gets back to being the do-it-all first basemen we've seen throughout his career, they will put a scare into the AL East powerhouses. And if they do, don't be surprised if Buck Showalter wins manager of the year then gets canned down the line for a manager that puts them over-the-top. FYI, he has been fired twice by teams that would go on to win the Series the very next year.
Boston Red Sox
: 33 of 45 experts on ESPN picked them to win the World Series, basing their prognosis whole-heartedly on the additions of Carl Crawford and Adrian Gonzalez. The former is a fantastic player, however, he does rely on his speed and is on the wrong side of 30. There is also the fact that he has never dealt with the type of pressure that comes from playing in New York or Boston. The latter is a proven slugger whose bound to be helped by the move from the cavernous Petco to the short porches of Fenway. But the most significant game he has played in is the all-star game and like Crawford has spent is whole time in a city with great weather and a happy group of reporters. Now, I'm not saying these are harbingers of doom for the Sawx but they aren't confidence builders either. They have too much talent to not win the division but Papelbon, Beckett and Jacoby will have to regain their old form for them to win the Series.
New York Yankees
:
$202,689,028
can buy you a lot of things; The Rangers and Dodgers, while still saving 6.2 million. 135,126,018 filet-o-fish from McDonalds. 184 2008 Bugatti Veyron's. 20,268,902 tickets to the movies. Or one veteran-laden team destined to finish second and lose in the playoffs.
Tampa Bay Rays
: The only team to undergo worse news to start the season is the Cardinals. Evan Longoria is the key to this team, and without him they will have to rely heavily on B.J. Upton and hope that Zobrist can bounce back to his 2009 form for their offense. They'll still be the most cash-efficient team in the bigs, but when you have the second lowest payroll in the bigs, 70 wins would be a success. David Price will push for his first Cy Young, Longoria will return and put up MVP numbers, but the departure of Carl Crawford could loom large and the Rays will once again fall just short of making the playoffs.
Toronto Blue Jays
: With their youth movement in full-effect, the Jays will take the O's annual spot as the divisions red headed step sister. The future may be bright, but the present will have us all questioning why we still have a team in Canada.
AL Central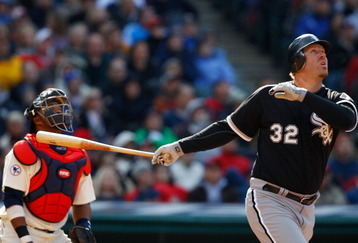 Chicago White Sox
: With the addition of Adam Dunn, the return of Paul Konerko and Gordon Beckham's continual improvement, the Sox could boast an explosive offense. The rotation also has the potential to be fantastic, with Buerhle, Danks, and Gavin Floyd as the top three. The scary part is if Jake Peavy and Edwin Jackson can pitch more consistently, they'll have a rotation that will be tough to match for any team. However, Edwin has shown no reason to believe that will happen and Peavy earned his reputation playing in San Diego, which is the antithesis of U.S. Cellular. I like the Sox to push the Tigers, but I just can't trust that Ozzie makes it through the season without alienating his entire team.
Cleveland Indians
: On paper their lineup looks okay, but that's going off of past success for a few and potential for the rest. Carlos Santana will continue to make Dodger fans lament the Manny trade (though it was a fun run), Matt LaPorta will have Brewers fans doing the same and Shin-Soo Choo will be their lone all-star; all-the-while Grady Sizemore and Pronk will again have fans on Lake Erie scratching their heads pondering where it all went wrong. They'll be better, but it'd be tough to match their futile efforts of 2010.
Detroit Tigers
: In Justin Verlander and Miguel Cabrera, the Tigers have the best hitter and pitcher in the Central. And thanks to the addition of Victor Martinez via free agency, they have one of the most formidable lineups. They also are younger and deeper, thanks in large part to the trade with the Yankees that landed them Max Scherzer, Phil Coke, Daniel Schlereth and Austin Jackson. From the top of the lineup to the bottom, they have the potential to score at any given moment. But most importantly, apart from the injury concerns of Magglio Ordonez, they have no glaring weaknesses and have the failure of the past two season's second-halves to drive them to the playoffs. Verlander wins the Cy Young, Cabrera plays so well that we will all forget he is battling alcoholism, and the Tigers win the division.
Kansas City Royals
: The big news coming out of the Royals camp this spring was
Jeff Francoeur's
comeback story. Yeah, it's going to be that kind of year in KC, one of failure and
missouri
misery. But with Greinke gone and Soria surely soon to follow, what can you expect? And while the Royals may not have a lot going for them this season, with one of the
best groups of prospects in the majors
, it might not be for long.
Minnesota Twins
: Every year we look at the Twins roster and scoff at the idea that they could make a return to the playoffs. And every year they find themselves as one of the last eight teams alive. Knowing this information, you would think that we would stop doubting Gardenhire's squad. But then February rolls around and we see Carl Pavano as their ace and Delmon Young as their fifth hitter, which eventually leads to openly questioning how they could beat the Tigers for the division and laughing at the idea that they could overtake NY, Bos, or TB for the wild card. So, with the Twins, we repeat the same mistakes and expect different results. Therefore, the Twins make us insane.
AL West
Los Angeles Angels of Anaheim
: With Dan Haren and Jered Weaver at the top of their rotation, they can match-up with any team in the bigs. However, the bottom of their rotation has a lot of ability with just as many questions; Can Santana do it two years in a row? Can Kazmir rebound after an atrocious 2010? Can Pineiro win on the road? And while all three are unlikely to be positive answers for the Angels in 2011, they do have a balanced offense that should be jolted by the addition of Vernon Wells and the return of Kendrys Morales. They'll be better this year, but I see them falling back late, losing the division by a couple games.
Oakland Athletics
: Home to one of the youngest and most talented rotations in all of baseball but (at the same time) they're also one injury away from just being another so-so rotation. They will need career years from Dejesus, Willingham and Matsui to win the division. Matsui will do his job, but I don't see that happening for Dejesus and Willingham. As one has never hit more than 73 RBIs and the other hasn't had more than 61 since 2008. Just another year in Oakland of Beane continuing to stockpile talented pitchers while wasting them on an incomplete offense.
Seattle Mariners
: King Felix and Ichiro are officially Alex Lifeson and Neil Peart of Rush. I like Geddy Lee as a bassist and I love watching them play, but how often would they come up in a debate discussing the best bands of all-time without "Canada" being the constraint? Never. If Rush had a lead singer who didn't sound like a cat being stepped on, maybe more would understand how talented they truly are. Michael Pineda may be a better frontman, but they may need to add a new manager and possibly a keytarist to make the full jump to become relevant in the conversation.
Texas Rangers
: They will sorely miss Vlad's bat/attitude and Cliff Lee's pitching every fifth day. Adrian Beltre is fully capable of filling Vlad's shoes on offense and adds a great glove to the hot corner, yet, I wonder if he can bring the same energy to the clubhouse. Brandon Webb will to try fill the gaping hole that Lee's exit leaves, but he is so brittle that I can only see it ending badly. Neftali to the rotation is almost as bad an idea as Charlie Sheen's "Violent Torpedo of Truth Tour."And yet, they're my pick to win the AL West. I love how this team has been constructed. From the front office to the field, their focused plan has been executed and gives them the best balance in the West.