There is only one game of the week for this weekend. It has everything every 80's movies purported to us as rivalries; north v south, rich v middle/upper-middle class, white v tanned skin, and mountain men v city boys. It is of course,
Florida v Bama
JMU v Richmond. JMU, the capital of New Jersey, resting in the Shenandoah Valley. Richmond, sitting on the banks of the James River. JMU, full of Jersey Shore misfits waiting for the ending of "The Sopranos" and the next Arturo Gatti fight, both which will never come. Richmond, a campus full of aristocratic southern gentlemen from the banks of the Baltimore Harbor. It's gametime fellas, and these two, wholly Southern institutions are ready to brawl. It may be over a spilled Sam Adams or a Cape Cod, but it's still a rivalry damn naggit.
This makes the third week in a row that JMU partakes in the picks of the week, which is just by chance but also shows just how tough their schedule has been. First Liberty, then W&M, and now Richmond. All three ranked at kick-off, all three with talented offenses. JMU has overtaken the first two, but now it has to overcome the loss of QB Justin Thorpe (5-game suspension for substance abuse) and overcome the Spiders. The wacky-tobaccky gets em everytime.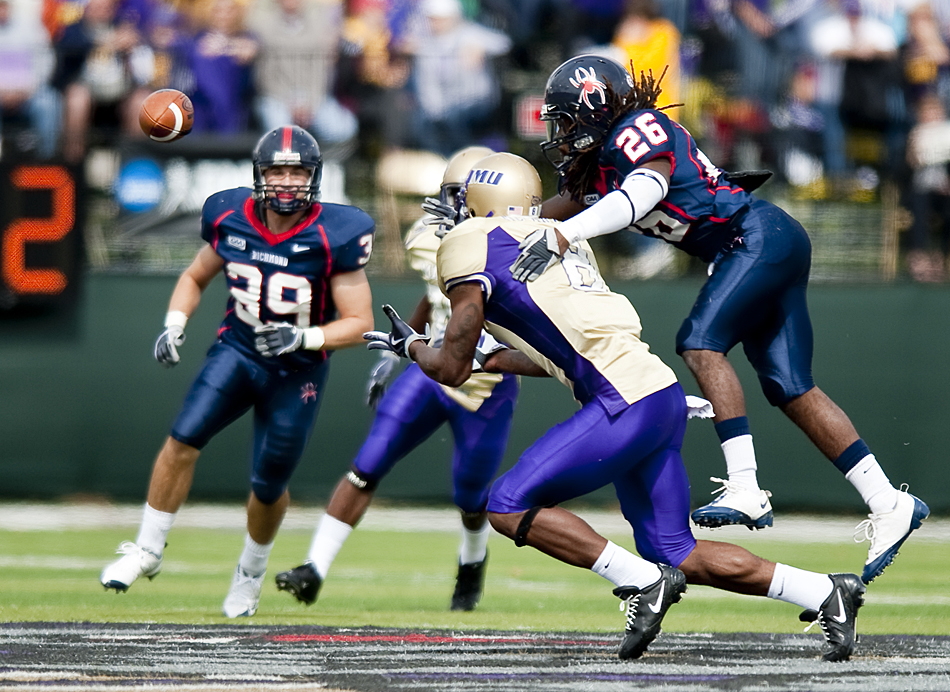 I visited both teams message boards to get a feel for the game that Teach and his fiancee will be taking in. What I found was a lot of hate. What I learned is that Richmond fans typically wear sweater vests. Unbeknownst to me, this is the staple for the average Spider alumnus. What I learned for JMU is that they are all backward hicks who like to fornicate with their sisters. JMU also has a big stadium, which is easy to fill up since all of their alumni is young and lives in DC. Whereas UR has trouble filling an 8.5k field with their
tiny
"select" population of undergrads and sweatervest wearing alumni.
The game goes down at JMU, the crowd should be pumped, the stadium should be full, and the jerseys will be a color most commonly referred to as "a mix of last nights dinner from Tacos El Primo and jungle juice" also known as "Barney Juice." Da'Quan Scott is still running the ball, JMU wins by a hair, but makes it look easy. JMU 21, UR 18.

Elsewhere in the South:
Florida takes on Bama, and if they have any chance of winning, they'll need a big game out of QB John Brantley. Or in other words, Bama wins big, 34-17.
ODU hosts future D-1 opponent UMass, in a "blackout" game. I'll be there to take pictures and recap the first CAA home game of my favorite FCS squad. I hope they win. But I also hope they can win by a minimum of 14 points, all in the name of John Calipari.